What is Tone of Voice, and why is it essential in promoting a brand?
The tone of voice is a unique style of communication that we define for a company by choosing the right style, vocabulary, graphics, or background music tailored to the audience. Its purpose is to emphasize the character and values represented by the brand. A precise definition of the style guarantees a consistent image and makes it stand out among the competition. To put it simply, we will speak a different language to the customers of a bank, and in another manner, to the audience of a youth clothing brand. How to define the tone of voice, what to consider when establishing it, and what criteria to consider? Read about it in the following sections of the article.
What does the tone of voice mean?
"Tone of voice" or "tone of communication" is the distinctive voice of a brand. It is the way we communicate with our customers and audiences in all content, whether it's on the website, blog, social media ads, business correspondence, or the customer service desk. Both content and graphic on the site, as well as every aspect of our communication, must match the tone of voice. Otherwise, there is a risk that the brand may unintentionally begin to be perceived as unreliable and inconsistent in message. 
The way we communicate – both written and spoken – must be as close as possible to the audience's personal narrative and values. We speak their language to establish a relationship with them. Otherwise, even the best product will go unnoticed because it will not reach our target audience. For example, the bank's customers will expect more toned-down messages that will create trust in the institution. It will be important for them to emphasize values such as long-standing tradition or financial security. On the other hand, young people who want to buy clothes can expect a relaxed style of communication, loaded with youth slang, references to pop culture, and idols, saturated with emotions, expressing their personality. These are, of course, only examples from an endless list of alternatives for using a variety of tones of voice.
How do you find the perfect tone of communication for your business? Discover the 4 steps!
In these days of media noise and overproduction of content, you need to have a good idea for promoting your brand to stand out among the competition. It is necessary to carefully choose your style and synchronize your language strategy across multiple channels simultaneously. The tone of communication has many more functions than just informational. It is the way we convey our emotions about our brand, the impression we want to make on our audience, and the sentiment we would like to arouse with our message. How do we define this?
Here are 4 steps to help with this:
Step 1: Define your brand's core values.
First, think about what makes your company unique and what goals it sets for itself. Refine two areas of communication:
Create a brand message (mission statement)
The brand message answers the questions: what are the company's goals? How do you intend to achieve them? Who is your target audience? What is your company to be known for? 
For example, Microsoft has formulated a message like this, "Our mission is to enable every person and every organization on the planet to achieve more."
Plan your message architecture
A message architecture is a set of communication objectives (usually in the form of a list of terms, phrases, and statements). It aims to unify the overall communication and brand values among all content creators. 
To create your own message architecture, prepare a list of up to 50–100 adjectives that describe your industry and sort them into three groups:
Who are we?

Who would we like to be?

Who are we not?
The "Who we would like to be" category is the most relevant, as it will determine what direction you want to go. Arrange the adjectives in this group in order of importance.
An example of Optimizely for Facebook's architecture: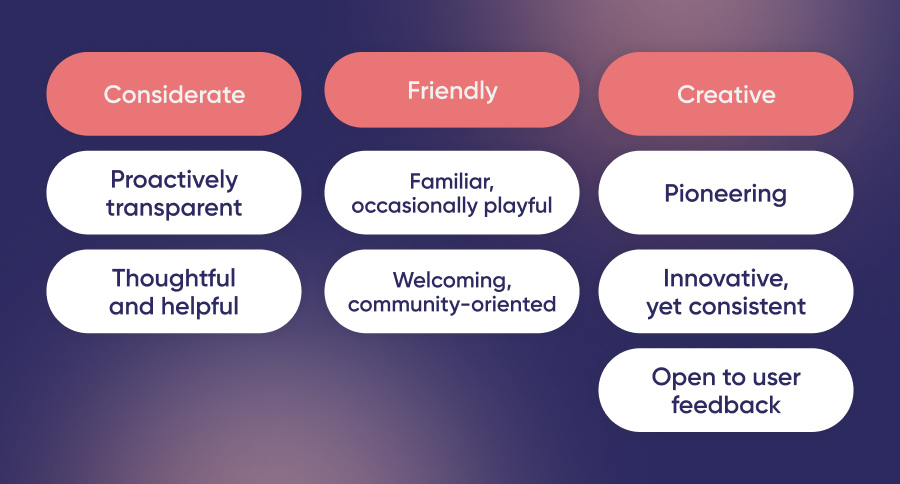 Step 2: Determine your brand's tone of voice
Once you've defined the mission for your company, move on to creating a unique tone of communication. To achieve this, list adjectives describing your desired tone. Use the four dimensions of the tone of voice developed by Nielsen Norman Group and analyze your brand along four dimensions: humor, formality, respect, and enthusiasm.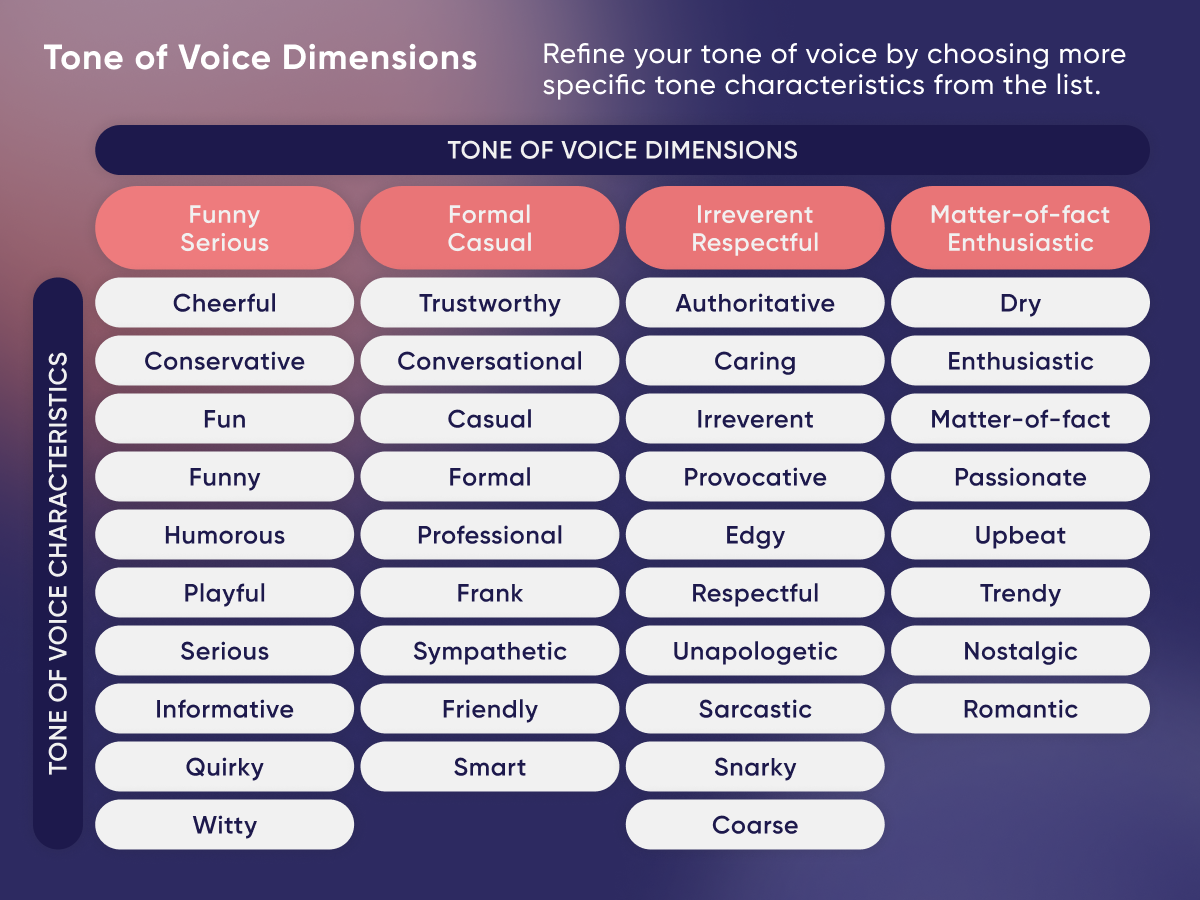 What is the framework of the four dimensions mentioned, and how do we apply it to our audience?
**Playful or serious style? **
It is worth considering whether we want to present ourselves playfully or a serious message will be more appropriate for our brand. We need to use different language for an audience of dental tools and another for customers of a sports club. 
Formal or casual style?
A formal style will not suit a website that sells bubble gum. On the other hand, will not use colloquial speech or humor on institutional or government sites. Using a formal tone can help your brand seem more authoritative, but also give the impression of being impersonal. The casual language will establish a friendship with the recipient. 
Respectful or provocative style?
While in some areas, for example, banking, medicine, or the judiciary, a respectful style will be well received, for others, it will appear too stiff and formal, discouraging the user from further communication. For free-thinkers or people who get bored quickly, a provocative style will attract attention faster and for longer. However, be careful not to intimidate or create content and images that are offensive to the audience. 
Enthusiastic or factual style?
Some topics require a matter-of-fact, dry message without unnecessary emotion, for example in the case of government organizations. However, writing for charities will require emotional content. Furthermore, for services and products, you need to consider whether you want to communicate messages with enthusiasm or purely informational. An enthusiastic tone can make a company appear helpful and friendly, but using this tone at inappropriate times can irritate your audience. Spoken language lends a sense of sincerity and simplicity, but when used incorrectly, it can create a sense of indifference or lack of personality.
Of course, tone of voice will be a component of many of the above dimensions. The most important thing is to honestly answer the above questions and consider which style will most accurately distinguish our brand. 
An example of how a communication tone profile can: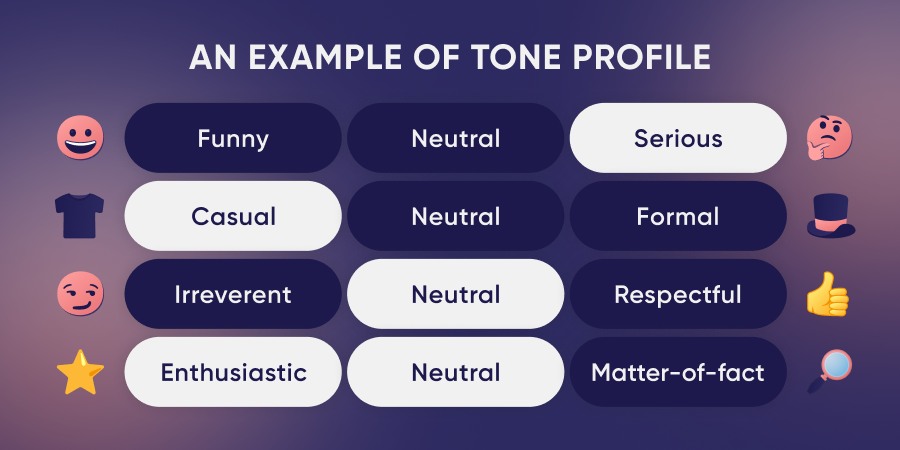 Step 3: Observe your audience and draw conclusions
Once you've defined your brand's tone of voice, it's essential to continually match it to your audience by observing their reactions. Customers want brands to understand their needs and expectations. A great way to learn about your target audience is to study what social media channels they prefer and how they interact with each other.
How can you test this? Use the "site search" method in Google search, which looks like this:
**your brand here site:www.website.com **
Google will show results only from the sites you are interested in. To search on multiple sites at the same time, type "OR" between them.
If you wanted to see what people are saying about wemakeit.pl on Facebook and Instagram, it would look like this:
wemakeit.pl site:facebook.com OR site:instagram.com
Analyze the results and draw conclusions from what positive and negative comments. See if you notice any trends. How is the community expressing themselves in the comments? 
This information allows you to better adjust your tone of voice. In case the brand is new to the market and you don't get many results this way, consider competitor analysis.
Step 4: Implement tone of voice guidelines
To effectively implement tone of voice, you need to set precise guidelines for your brand and review them occasionally to adjust them to current needs or changes in your target audience.
Define both correct and incorrect examples of tone of voice, and communicate them to team members, for them to know what to do and what to avoid.
Summary
The twenty-first century's content and graphics must maintain the highest level. Not only must the content express the brand's values and goals (marketing, business, relational), but it must also follow specific style guidelines. The words and images you use shape how customers will perceive your brand. The tone of voice is more than that. It's the way you connect with your audience and carry out your company's mission. It has a big impact on the overall "feel" of your target audience, as well as the representation of your brand personality. 
If analyzing the tone of your communication is a challenge for you, rely on the professionals at the marketing agency We Make It. The agency's creativity will help you stand out from the competition, and maintaining a consistent and unique tone of voice will allow your company to build authority and popularity.
Autor Case Study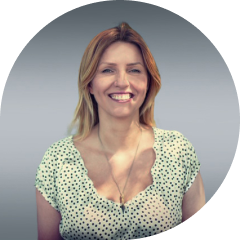 Paulina Czaja
Crypto copywriter z szerokim doświadczeniem jako project manager, content manager oraz SEO copywriter dla różnorodnych projektów blockchain. W WMI jest odpowiedzialna za tworzenie contentu na social media, pisanie artykułów na blogi, oraz przygotowanie tekstów na potrzeby codziennej komunikacji.

powrót do wszystkich artykułów

;