What do you need to know about Google Trends? How to use it in marketing?
Google Trends is an essential tool in the work of a marketer, SEO specialist, copywriter or editor. It allows you to build the communication of a particular brand on the Internet according to the latest search trends. The data obtained through this tool allows for finding a more precise selection of keywords in content marketing, optimizing content for SEO, and planning advertising strategies. Our guide will elaborate on what Google Trends is and how to use its potential in business and marketers' work. 
What is Google Trends?
Every day, millions of users worldwide type their queries into Google's search engine. With Google Trends, you can get information on what words and phrases were the most popular in a given window of time, region, and so on. This free tool makes it easy to analyze data in real-time, according to specified parameters such as location, time, category, or season. It makes it easy to plan your marketing strategy, as you can see what Internet users searched for most often online. 
To start using Google Trends, type your query in the search bar: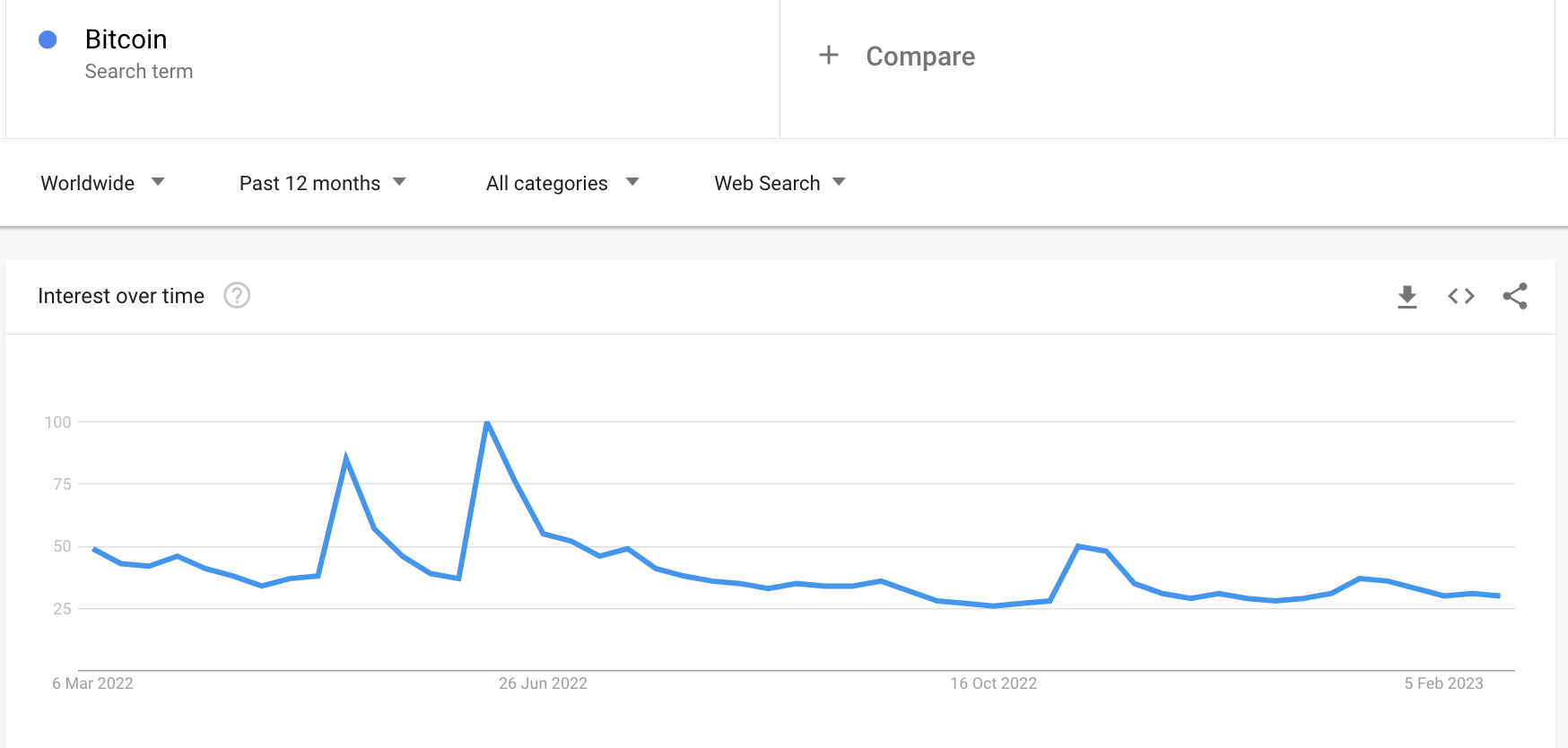 Google Trends displays keyword data based on real-time searches, which sets it apart from other analytics tools. Analyzing the information allows, for example, to accurately determine the target audience in Google Ads. 
Why do marketers love Google Trends? Learn how to get the most out of this tool. 
Google Trends is a relatively simple tool that provides many opportunities to create a marketing strategy. Comparative statistics on search trends for specific phrases can be used in your SEO strategy, social media, Google Ads campaign planning, or when creating content marketing for your blog or website. 
Here are 5 ways you can use Google Trends to improve and optimize your content:
Keyword comparison
With Google Trends, you can show the popularity of a phrase, which is measured on a scale from 0 to 100. It is not the number of keyword searches (keyword search volume) but the popularity of the phrase. How does this work? Google explains it this way: "Each data point is divided by the total number of searches in the geographic and temporal range it represents to compare relative popularity".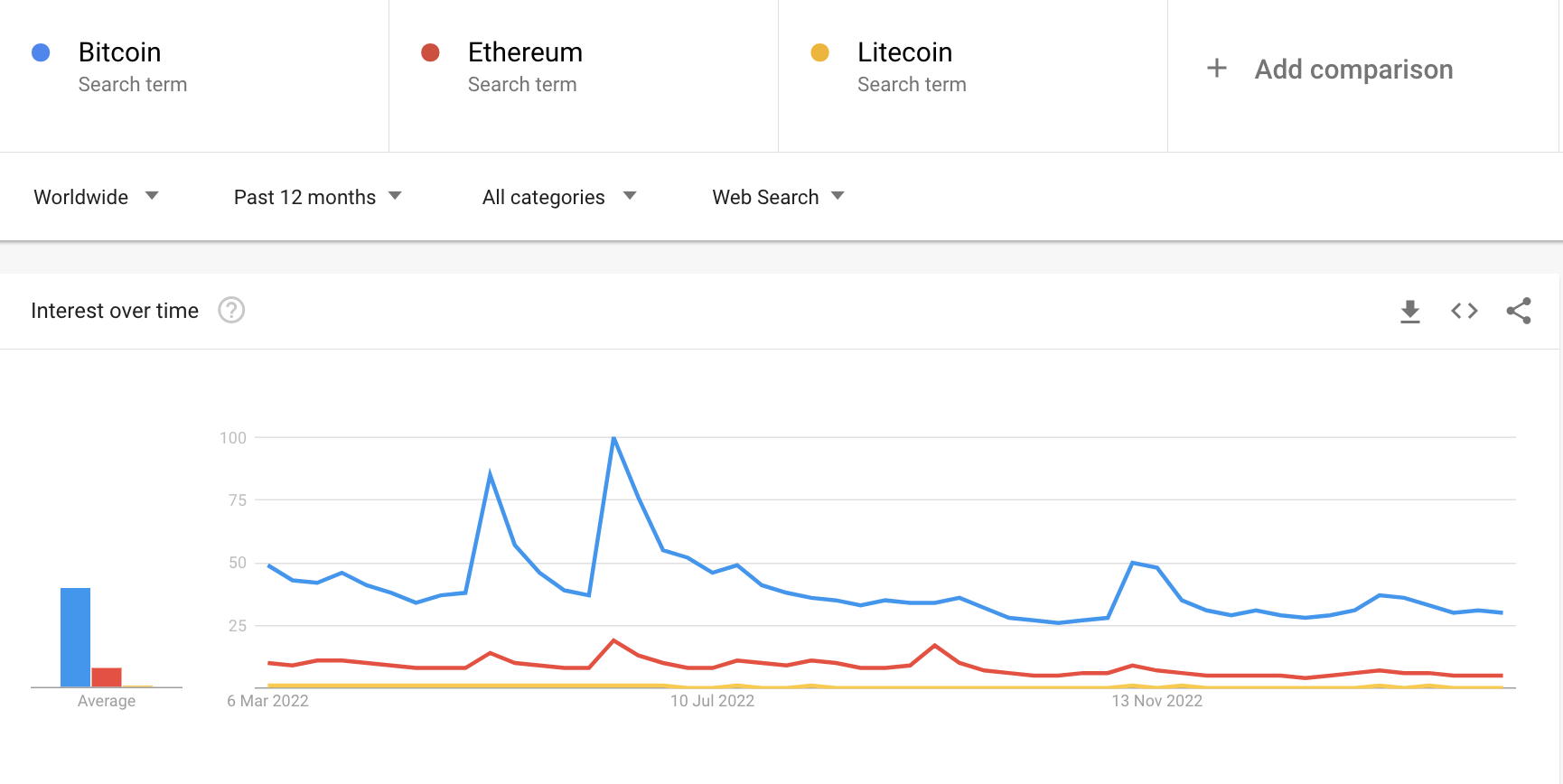 In the above chart, you can find a comparison of 3 keywords. It shows a range of results from 0 to 100, where the highest result indicates the day on which Internet users typed the phrase most often into the search engine. It does not reflect the actual number of searches for the phrases but represents their popularity. The number 0, in this case, is not an indicator that the phrase was not searched by users at all. It is information that Google has not collected enough information on that query. 
Comparing the search frequency of several keywords helps in SEO. This way, we find out which phrase users type in most often. We can also see which searches are still popular and which have been on a downward trend for a long time. 
**2. Comparison of branding with competitors **
In addition, with Google Trends, you can benchmark competing brands and see how your brand compares with others. You can track a competitor's marketing efforts at the peak of popularity and draw conclusions for your business.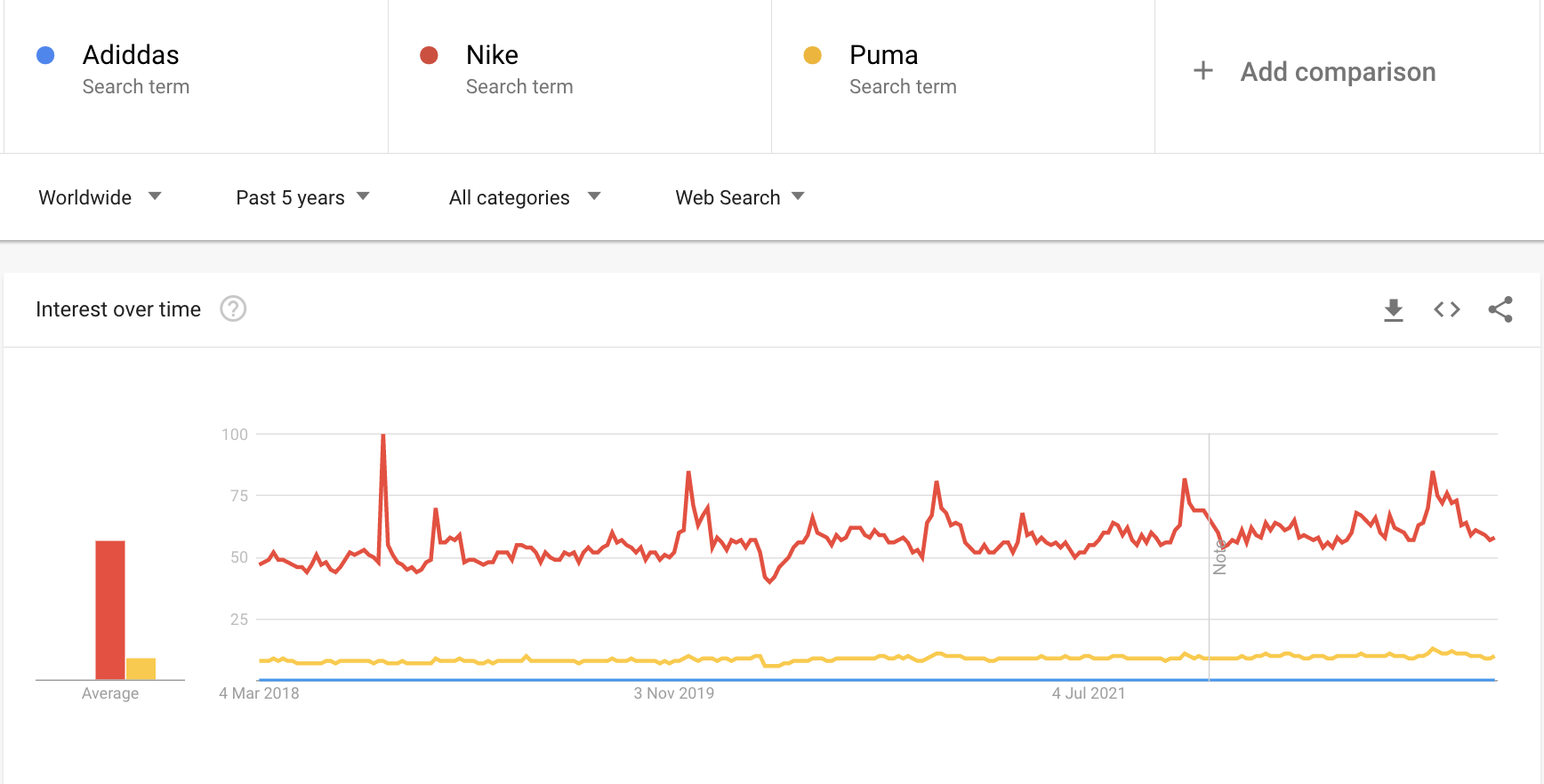 It is also very helpful in optimizing content to see what are the most frequently searched phrases linked to our query. That makes it easier to define keywords for our articles or social media posts. 

3. Popularity in geographic regions
A very useful feature is the geographic criterion, which allows you to see where a given query is most frequently searched.

It is especially **helpful in determining the target audience for advertising campaigns. **Moreover, if you are a local business owner, you can check what is popular in your area (you can choose between Region or City, so the results can be more accurate) and compare this with national or global trends.
4. Analysis of keyword and topic search trends
Analyzing trends, or the direction in which an area is developing, is extremely important in planning a marketing strategy. 
How to search for current trends? Select "trending searches" from the side menu and see what phrases are the most popular on a given day in a given country:

Expanding the menu to the right of the photo will allow you to get further data: what is the primary source of information, and what are other phrases related to the topic which will help you search for more keywords on the subject:
Real-time search allows you to get additional data by specifying more detailed parameters (business, top, science and technology, entertainment, sports, health). 
When selecting keywords, and long tail phrases, it is also very helpful to check related topics and phrases. 

Trend analysis helps you respond quickly to the changing market and implement changes to your business. 
5. Planning marketing activities by season
Google Trends data can also be used to define the best timing for social media ads or Google Shopping. 
Type in a keyword and switch from "Web Search" to "Google Shopping". We used the word "whisky" as our keyword.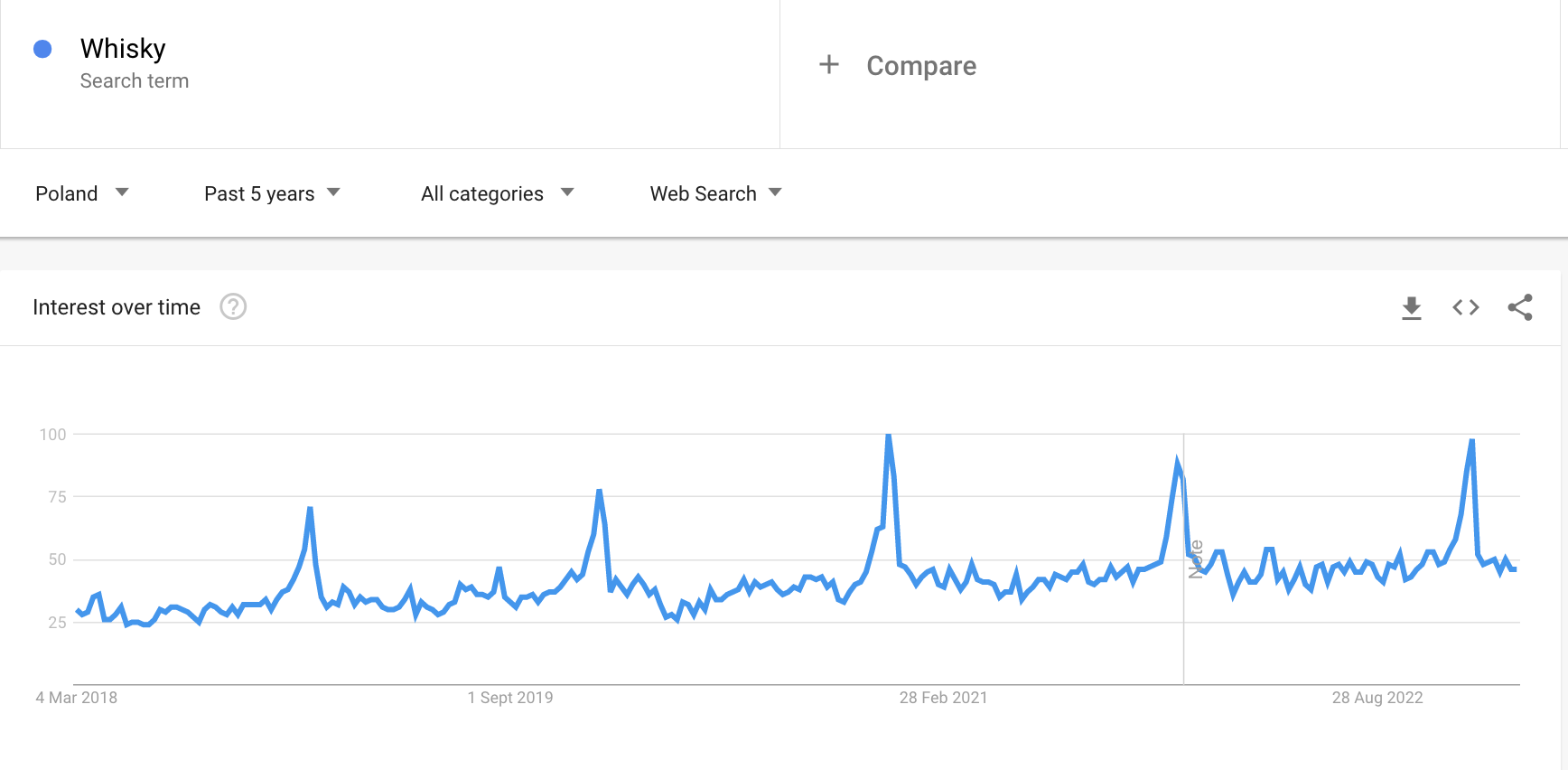 To check if there is seasonality for a phrase, it is a good idea to mark a time range longer than 12 months, such as 5 years, to illustrate what happened in each month in previous years. The chart above shows that the phrase "whisky" was the most searched for in December in previous years. There are also phrases that are not subject to seasonality, such as "coffee" or "tea." This knowledge can help you plan the timing of your marketing campaign at the right time. 
Get expert opinions on Google Trends
Ola, a paid ads specialist from the We Make It agency tells us how she uses the tool in her work: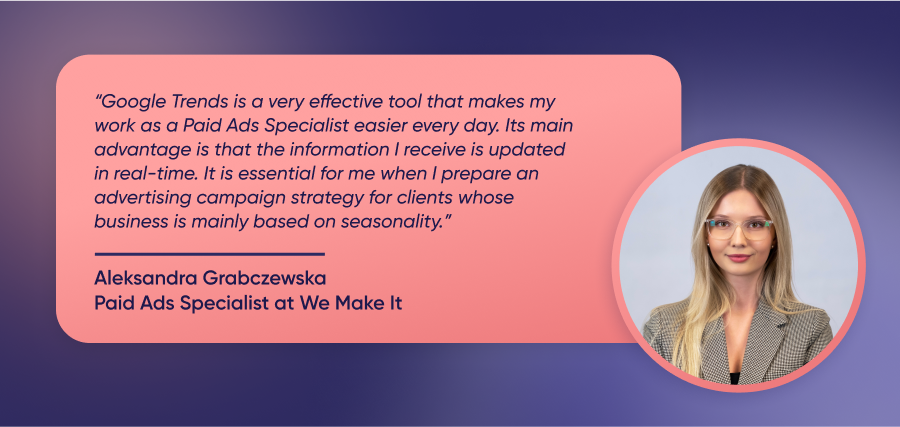 Google Trends is free, so anyone can take advantage of its unlimited potential. If you need help analyzing data for your business, contact our specialists!  
Summary
Thanks to its real-time data analysis, Google Trends is helpful for keyword and topic research. This simple tool has many uses that make a marketer's job easier, allowing you to optimally use your advertising budget for a given period to create content that lines with the latest global and local search trends. It's helpful for both businesses that are entering the market and want to check upward and downward trends, as well as for companies that want to maintain the quality of their content and stay ahead of the curve. 
Autor Case Study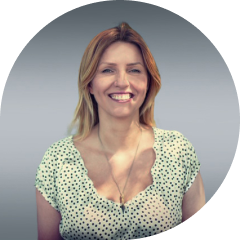 Paulina Czaja
Crypto copywriter z szerokim doświadczeniem jako project manager, content manager oraz SEO copywriter dla różnorodnych projektów blockchain. W WMI jest odpowiedzialna za tworzenie contentu na social media, pisanie artykułów na blogi, oraz przygotowanie tekstów na potrzeby codziennej komunikacji.

powrót do wszystkich artykułów

;