SEM and SEO - support for effective marketing.
Thanks to the Internet, we have access to a huge amount of information and content every day. Like everything, this has its good and bad sides. On the one hand, you can look at the Internet as one giant encyclopedia with information on every topic. On the other hand, the downside is that much of the information is of questionable quality, and websites are overflowing with unnecessary, often unreliable content. As a company or brand, we need to get ahead of the competition and present ourselves online in the best possible way so that the recipient wants to stay on our site and use our services.
What can be done to help you be more visible online? SEO and SEM are increasingly being used for this purpose. Therefore, it is good to know what they are, and how to use them. The following article will take a closer look at these concepts and their impact on brand performance. 
How can SEO and SEM help your business?
Google scans billions of pages every day for new content. What makes some companies show up at the top of the search engine, and why some are not visible at all? The speed of information circulation has always influenced the growth rate of the world. A search engine is a kind of ecosystem of documents, maps, etc. designed to collect and transmit data. In the real world, the flow of information was accelerated by the development of transportation. Thanks to it that news began to reach different corners of the world. Access to information was no longer a local phenomenon. On the Internet, we also have many roads through which information circulates. Thanks to this virtual network of "highways" people from all corners of the world can communicate, and the flow of information is very fast, almost instantaneous. The leading commander of all digital paths is Google. Thanks to this browser, we have access to a gigantic library of online content created by humans, and more recently, also by artificial intelligence.
The virtual circulation of information is an ongoing process, and we participate in it every day. Learning how SEM and SEO work is like knowing the road signs and the rules of the digital road. Without this knowledge, we won't know how to "drive from point A to B." Lacking the knowledge of SEO, it will be difficult for us to "transport" our company's audience to their destination, which is demand for our services or products. Much content will disappear unnoticed on the web simply because Google will not recognize it as valuable.
Whether we are writing as a hobby or to reach customers, we want to achieve the highest possible results in searches and increase interest in the company or brand. The description of the product, service, site content, tutorial, blog, etc., is supposed to fulfill the function of attracting the viewer's attention and is supposed to convert into profits for the company. In order for a site to fulfill this task, it must be visited and generate traffic. Thus, what can we do to increase the number of visits to our site?
What are SEM and SEO? What are the differences between the two?
Effective online content management is an art  performed by specialists. Let's take a closer look at what SEM and SEO are. 
SEM = SEO (organic results) + PPC ad publishing (paid results).

SEM (Search Engine Marketing) 
It's a term that describes a set of marketing activities aiming to achieve higher search engine display rankings. SEM consists of SEO (Search Engine Optimization), and PPC (Pay Per Click), which contributes to better conversions and produces immediate results, allowing you to reach a large target audience quickly. However, the results are not as long-lasting. It works well for sales, contests, promotions, or for gaining a larger community.
SEM's task is to route as much traffic to the site as possible. With the right SEO efforts and optimized online advertising, more potential interested customers will visit our site. A user types a question or phrase into the search bar to find information about a particular product or service. Google displays the highest-rated pages, according to which it considers most valuable in terms of the content of a user's query, as well as in terms of site architecture for Google's robots (Crawlers).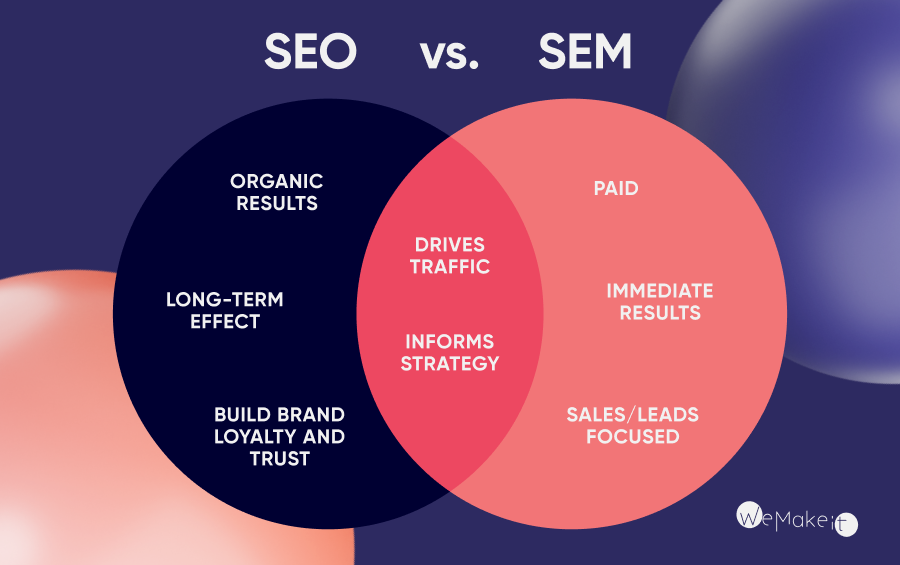 SEO (Search Engine Optimization)
SEO is part of SEM, and it deals with optimizing a site for search algorithms (organic results). Algorithms analyze all pages in the index, considering many factors and signals, to determine the order in which pages should appear in search engine results. Results are achieved by optimizing content with keywords and long-tail phrases, i.e., those most frequently typed by users in search engines. Equally important to the algorithms is the quality and richness of the content to answer the questions posed by users. On the technical side, the site must be well-coded and secure so that bots can easily find and crawl it.
The effect of SEO can be seen only after weeks or months of work, the opposite of advertising efforts, whose effects are noticeable immediately as long as the advertising account is credited with funds. With SEO, you sometimes have to wait a few months for results, but the effects are long-term and contribute to the recognition of the site by so-called search engine robots or bots. It gets them to higher search positions, building brand loyalty and trust.
How to outsmart Google? Should you choose a White, Black or Gray Hat?
SEO is a technique that influences Google so that our content becomes recognizable and readable to its algorithms. It's a guidepost for Google's search engine. Keywords alone are not enough. Also, the site architecture must be optimized for SEO, and external and internal links must be properly placed to boost search rankings.
There are two types of SEO: on-site and off-site.

On-site SEO prepares a site to be more visible and understandable to a search engine robot. This means that the entire site architecture (site code, meta tags, sub-page addresses, etc.), site content (key phrases, relevant headings and their structure) should be optimized to be more readable to search engines.
Off-site SEO is a tactic directed at enhancing the "strength" of a site through off-site activities that are not directly related to it. This method includes link-building, which improves a brand's online presence and recognition.
Here we come to three terms specific to SEO—White Hat and Black Hat, Grey Hat.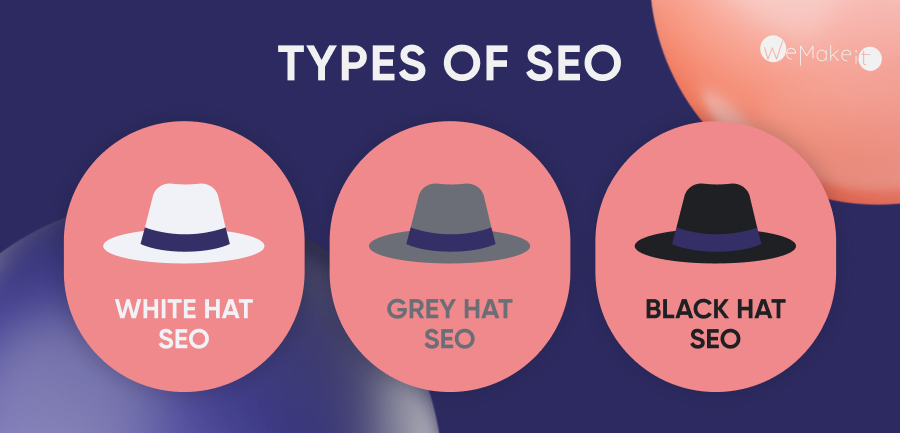 White Hat refers to all activities within SEO that comply with search engine codes.
These include:
having quality inbound links (other websites linking to your site), outbound links (linking to other valuable websites), and internal links (linking to your own pages throughout your site like websites and blogs),

optimizing sites for user requirements,

optimizing and creating valuable content,

fast page load time and responsiveness,

high-quality content with the addition of images and video,

descriptive keywords and meta tags.
The Black Hat is a villain among marketing activities operating outside the law, in violation of regulations and sometimes ethics.
Among them are:
spamming on discussion forums,

creating artificial content understandable mainly to search engine robots,

excessive use of keywords or placing them in white font so that they are not visible,

abusing the display of pop-up windows,

creating domains, subdomains, and pages with duplicate content,

sites with viruses or phishing.
Black Hat, contrary to initial assumptions, does not positively affect a site's positioning. Search engines usually punish its use by blocking the site address or even removing the site from Google.
Gray Hat is a combination of what is allowed and not allowed in SEO practices. It is a matter of interpreting the rules set by search engines. In some cases, bypassing the rules is not categorical and may be acceptable.
Taking advantage of Google's legal understatements,

copying and rewriting content from other sites,

too rapid link growth,

posting generated comments and opinions, 

clogging pages with keywords,

writing non-meritorious texts.
Sometimes sites employ Grey Hat strategies, and yet they don't get banned by Google's search engine. Grey Hat can easily be blown off and replaced by Black Hat, as Google's regulations are constantly being updated. Techniques in the gray area at a given time may be banned later.
Summary
Creating a clear online environment is valuable because it makes a brand visible. It's essential to reach customers ahead of the competition. SEM and SEO activities are very helpful in positioning our site high in Google search rankings. We Make It Agency will help you professionally conduct a PPC campaign, as well as write articles according to SEO guidelines. Nowadays, the use of SEM and SEO is becoming a standard, so no company should overlook these solutions when conducting promotional activities
Sources:
https://www.linkedin.com/pulse/10-google-search-statistics-you-need-know-2022-paul-slaney/
https://thesmallbusinessblog.net/how-many-google-searches-per-day/
https://earthweb.com/how-much-data-is-created-every-day/
https://bloggingwizard.com/website-statistics/
https://straymediagroup.com/seo-sem-101/
https://www.njlocalmarketing.com/whats-the-difference-between-on-page-and-off-site-seo 
https://www.vixendigital.com/seo/black-hat-white-hat-grey-hat-seo/
Autor Case Study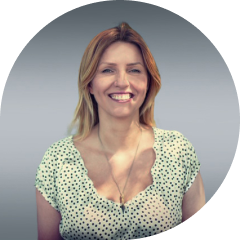 Paulina Czaja
Crypto copywriter z szerokim doświadczeniem jako project manager, content manager oraz SEO copywriter dla różnorodnych projektów blockchain. W WMI jest odpowiedzialna za tworzenie contentu na social media, pisanie artykułów na blogi, oraz przygotowanie tekstów na potrzeby codziennej komunikacji.

powrót do wszystkich artykułów

;