Mission and vision—why are they important in promoting a company?
Your brand is what people say about you when you leave the room - Jeff Bezos, CEO and founder of Amazon
Mission and vision are the bedrock of creating a brand identity. When creating a management strategy for a company, it is essential to define its values and determine how we are going to reach our customers and what we, as a company, can offer them. A well-formulated mission and vision is a guidepost, an umbrella thought that defines the goals and motivates the further brand's development. Take a look at the rest of this article to see what should be included in a mission and vision statement and how it benefits a brand's marketing efforts. 
What is the difference between mission and vision?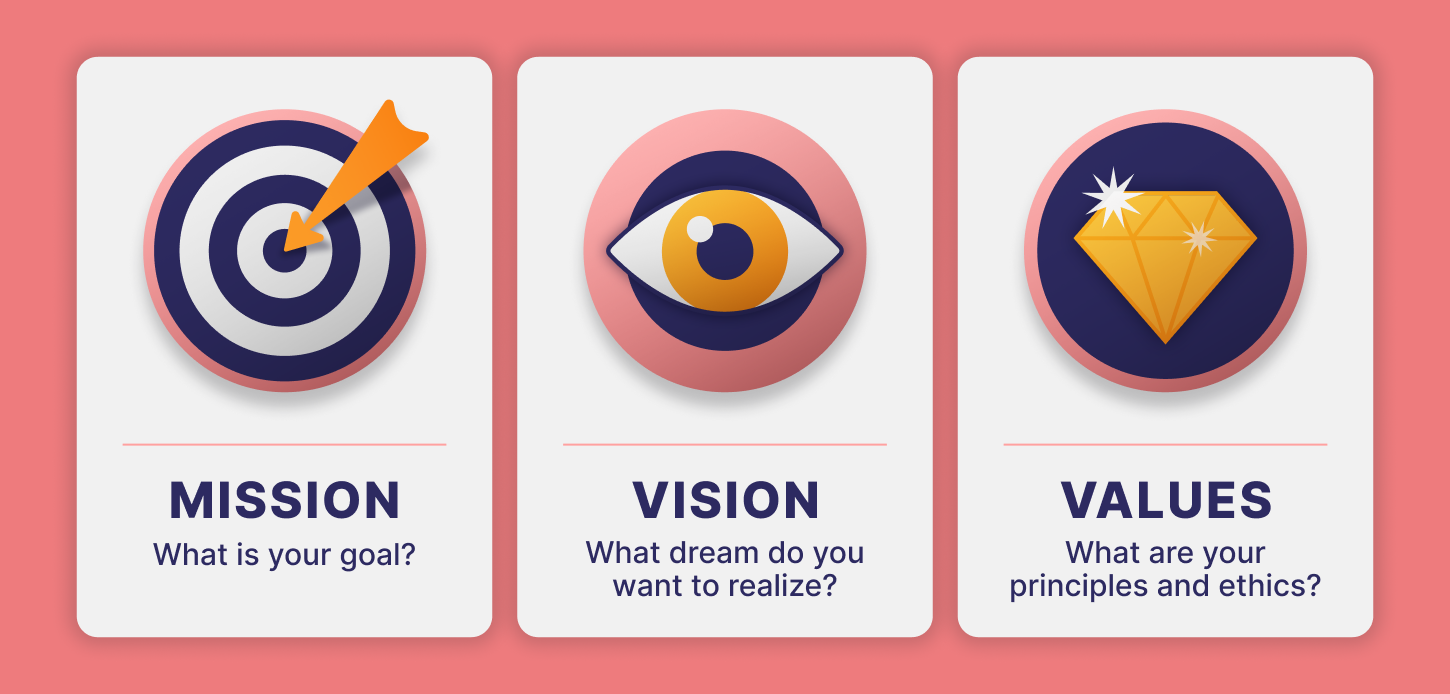 When starting a business, entrepreneurs know "what they want to sell?" but "what services they offer?" But not always have an idea how to do it, or how to reach their audience – defining a business plan and marketing strategy helps them do that. However, only a few ask themselves "why they are doing it?" 
Mission 
Establishing a higher purpose - a company mission, deeper beliefs is, in fact, the answer to the question "Why are we starting a company?". It helps to achieve the brand's material goals of generating profits—but this is only one aspect. The mission statement is the bigger goal toward which organizational activities are directed. It allows employees and customers to identify with the company's actions, creating an attitude of loyalty among the audience. 
A mission statement is a philosophy that defines the uniqueness of a company, and represents what is most important to its audience. It must fascinate and inspire those to whom it is addressed. A mission statement is a motto that describes the main purpose of the company's existence and guides its activities. It is a summary of what the brand does and how it wants to do it. The key to the mission statement is to answer the questions: "What do we do?" and "How do we do it?" and, most importantly, "Why do we do it?".
Vision
On the other hand, the vision depicts the future, how the company should develop and in which direction it should go. It describes the brand's aspirations and answers the question, "What is our dream as a company?". It will be the direction of development for the next few years. Furthermore, it is a picture of what the company wants to become, and the answer to the question of what strategy the brand should choose: motivating, inspiring, or determining.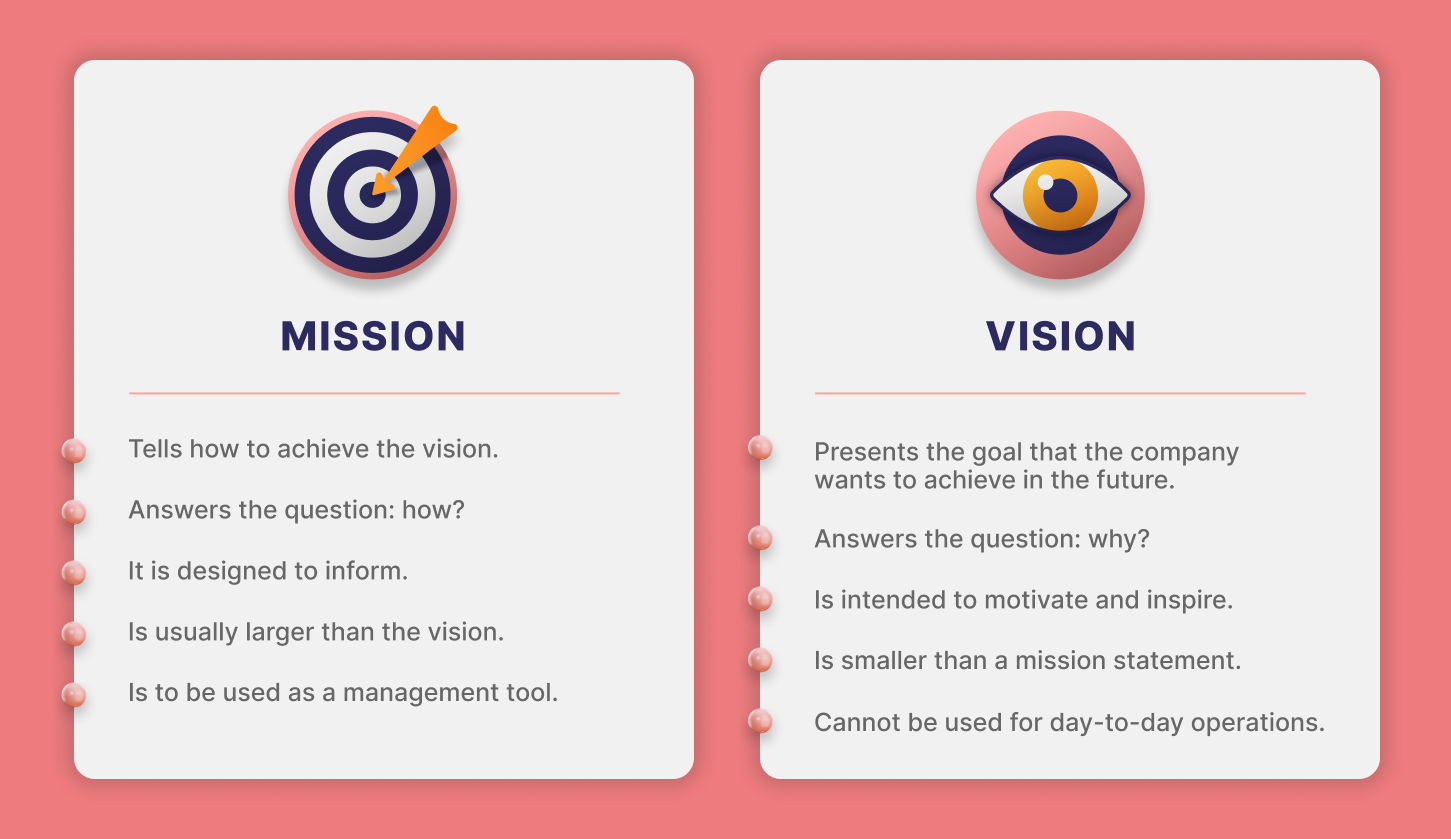 Values
A values' statement explains a company's beliefs and philosophy. Writing it with a full understanding of the goals and in such a way that it is consistent with the vision and mission is a must. It lists the principles that guide the organization's culture.
How to write an inspiring mission and vision statement? Examples
At the beginning of its activity, every well-known brand, defines the goals and values it wants to represent and a vision for the future. Four categories should be considered when clarifying the mission and vision statement:
Business-oriented mainly for profit, e.g., efficiency, professionalism, or effectiveness.

Rational - referring to building relationships with customers.

Developmental based on innovation and creativity.

Related to activities for of others by building the image of a socially responsible company.
Below are 3 examples of missions and visions of global brands: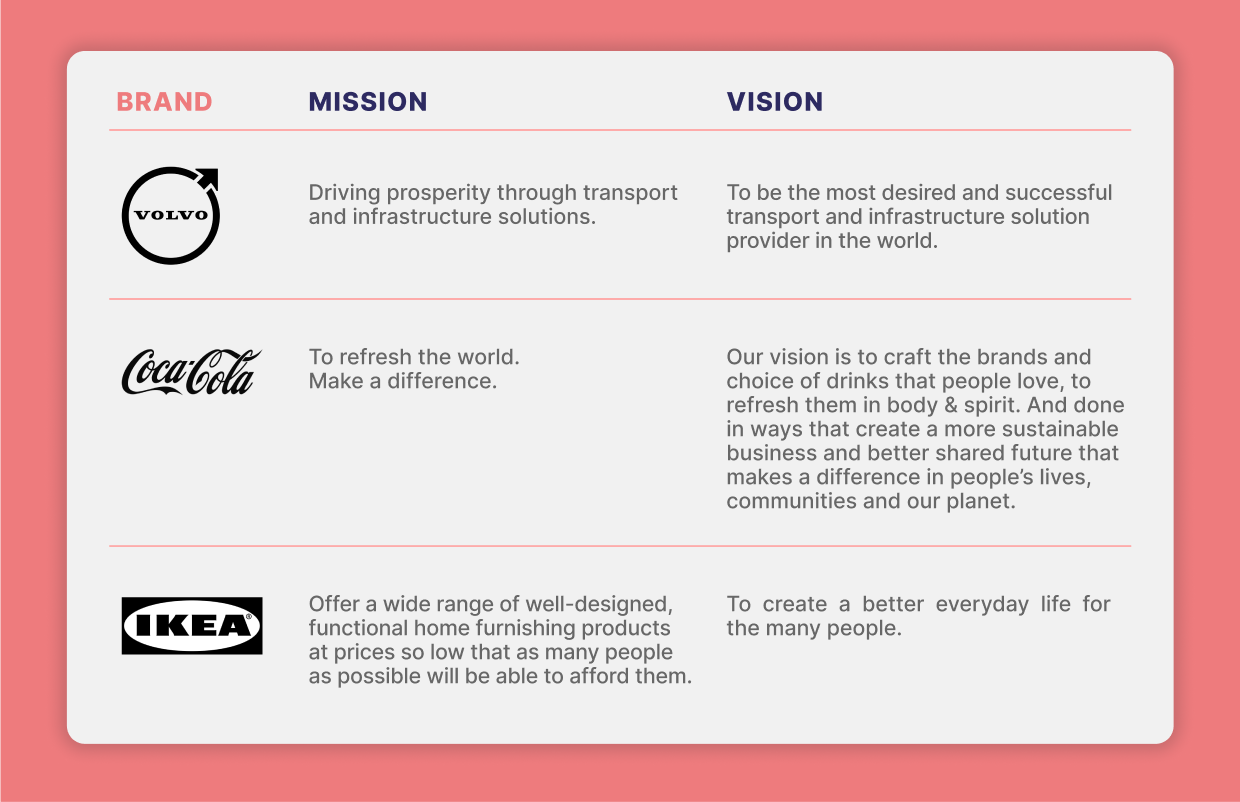 As demonstrated by the examples above, vision and mission statements are the driving force. Writing a mission statement helps verbalize a brand's purpose and business plan. It is a statement of practical solutions for the company. In contrast, to write a vision statement, we first need to identify customer needs and base the purpose of our existence on that. In an inspiring motto, we include the aspirations and dreams of the brand that represent its way of seeing the world, as well as long-term actions to achieve the mission.
The 4 main motives for setting a company's mission and vision—a compass for marketing activities
Knowing a brand's aspirations and goals is the foundation of a company's strategic management. What kind of deeper motivation should be behind setting a company's mission and vision? Here are four main motivates: 
Building a strong and consistent brand image by raising brand recognition and formulating a clear message to the audience.

Adding value to the world by providing innovative solutions. 

Setting a course of action, creating a unified and consistent operation.

Motivating action and building passion in the team.
By determining in advance what values characterize a company and what purpose it has, it is easier to plan a marketing strategy. This helps to communicate more accurately with target audiences and set the direction and way to achieve goals. 
Summary
Creating an inspiring mission and vision for a brand is the basis for its development in line with defined values. That makes the company strong and recognizable. Come to us if you want to formulate a mission tailored to your brand. Our specialists from the We Make It agency will help you write an inspiring motto that clearly presents the direction and values of your company or organization.
Sources:
https://publicdialog.pl/artykul/marketing/wizja-i-misja-marki/
https://questus.pl/blog/misja-wizja-i-strategia/ 
https://www.mindtools.com/aqzfi79/mission-statements-and-vision-statements 
https://www.corazlepszafirma.pl/blog/misja-firmy 
https://www.volvogroup.com/pl/about-us/our-mission-vison-and-aspirations.html
https://www.coca-cola.pl/poznaj-nas-lepiej/dolacz-do-nas/misja-wizja-i-wartosci 
https://www.ikea.com/pl/pl/this-is-ikea/about-ikea/wizja-pub9cd02291 
Autor Case Study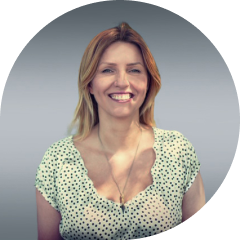 Paulina Czaja
Crypto copywriter z szerokim doświadczeniem jako project manager, content manager oraz SEO copywriter dla różnorodnych projektów blockchain. W WMI jest odpowiedzialna za tworzenie contentu na social media, pisanie artykułów na blogi, oraz przygotowanie tekstów na potrzeby codziennej komunikacji.

powrót do wszystkich artykułów

;