Do you run a business? Find out how link building will affect your company's online visibility.
What is the difference between internal, and outbound and external links (backlinks)?
High-quality links on a company's website are key to making the business recognizable on the Internet. Internal links link to pages within a website, outbound links (redirect to other websites), while inbound links (backlinks) come out of other sites and redirect to our page. 
Technically speaking, internal linking directs to URLs on the same domain, while external linking directs to URLs on other domains. We elaborate on this topic in more detail below. 
What is internal linking?
Internal linking refers to sub-pages, topic pages, and articles on the same website. It allows readers to deepen their knowledge of a specific topic and helps them navigate through a company's website. Internal links are often used to build the site's menu to help users better navigate. This creates a hierarchy of subpages, which is essential for building the site's structure. From an SEO perspective, internal links are one of the most important ranking factors for a website. Internal linking is significant for both improving a site's user-friendliness and SEM and SEO. The link placed in the previous sentence that redirects to our article regarding positioning is an example of internal linking.
Are outbound links necessary?
Outbound links (linking to other websites) do not enhance the "strength" of our site. If they are placed in the wrong place, they can distract the reader and redirect him to another site before he has thoroughly read the information on our site. The only value of links to other sites is if it is a barter exchange or when someone has paid us to place these links on our site.
What is external linking? Learn about the tools used for link building.  
External linking is the practice of building one-way hyperlinks (also known as "backlinks") to a website to improve its visibility in search engines. Numerous links leading to a site build its authority and indicate that the content posted on it is credible. External links lead from other sites to your website. Link building strategies include many elements, such as on-page content marketing, email blasting, technical SEO, and the use of analytical tools.
Effective link building in SEO strategy
Why are external links so important in SEO? To better understand this, go back to the pre-Google days of the Internet when the dominant search engines were Yahoo! and Alta Vista. They arranged search results 100% based on website content. Google's Page Rank algorithm changed game rules. Instead of analyzing the content of a page, it looks at how many people link to it. 
Twenty years later, links are still the best way to measure the quality of a website. Backlinks are a ranking signal for Google. With updates like Google Penguin, Google is focusing on link quality (not just link quantity). Numerous valuable external links greatly affect a site's SEO, placing it in higher search positions.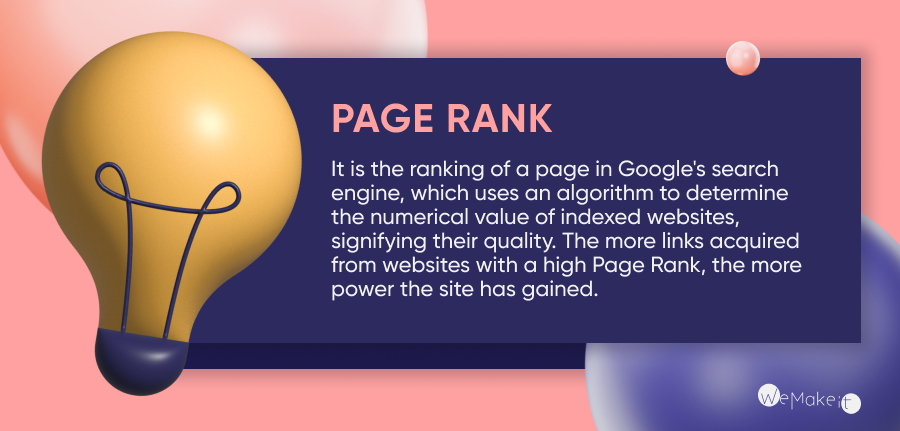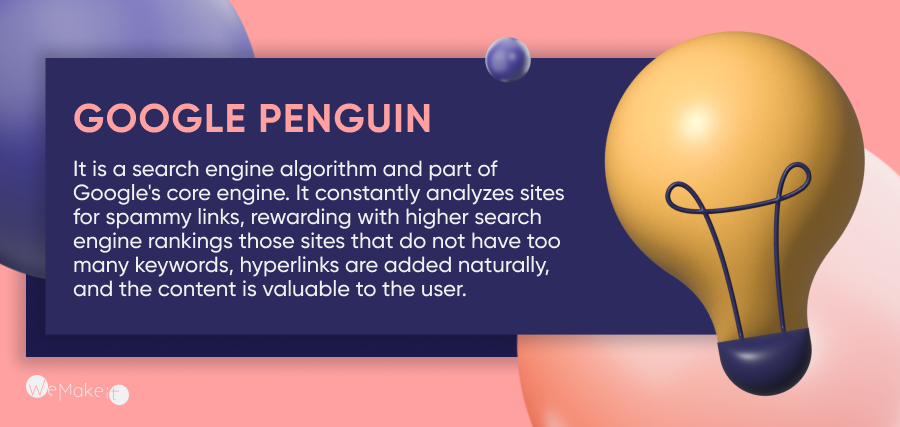 What exactly are quality links, and how do you build them?
External links have a massive impact on search results. Google considers them as one of the ranking factors. So, what are the characteristics of high-quality links? 
They come from a page with high Page Rank authority.

They have a steady rate of traffic to the site. 

They offer users valuable content.

They have appropriately selected keywords for the industry.

They are recognized in the industry as authoritative.
How do you know if a linked site is valuable to Google's algorithms? We present 3 tools that can help with this and discuss where best to place links. 
Page authority
Does the page linking to your site rank high according to Page Rank? If so, that link will be an important factor in your position. The links from authoritative sites recognized by Google as valuable convey the most authority (Page Rank) to your site.
To identify your Page Rank indicator, you can use the Semrush service. Enter the URL into Semrush and check the "Page Authority Score."\

A link from a site such as bbc.com will have a much greater impact on our site than a link from a barely recognizable blog or a newbie YouTuber. It's worth investing in sponsored articles or guest posts with links to our page on websites with strongly built authority. Our copywriters at We Make It agency will be happy to write dedicated articles for your brand according to the keyword analysis conducted beforehand. 
Domain Rating (DR) 
Domain Rating (DR) is a search engine ranking metric developed and used by Ahrefs. It allows you to check the strength of a site's backlink profile on a scale of 1 to 100. It does not directly affect a site's ranking in Google but it is still a useful measure of a site's link popularity and its ability to generate traffic from Google searches. Ahrefs calculates a site's DR in several ways. Among other things, it considers the link to the target site, the DR values of those linking domains, whether the link is "dofollow" or "nofollow," and the number of unique domains each site links to.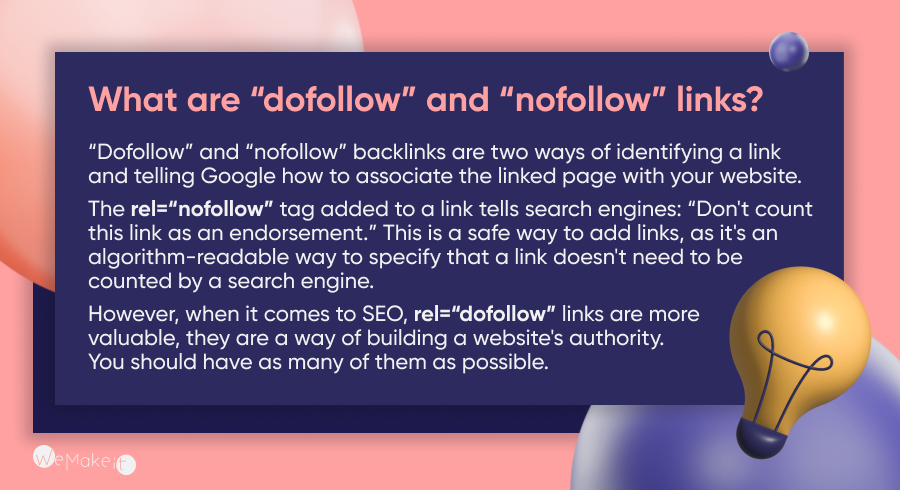 Domain Authority (DA)
Domain Authority (DA) is a search engine ranking metric developed by Moz (a service for creating SEO tools). It predicts how well a website will rank on search engine results pages (SERPs). Domain Authority scores range from 1 to 100. Moz derives a DA score based on numerous factors, such as linking root domains, the number, quality of inbound and outbound links, and age of the domain.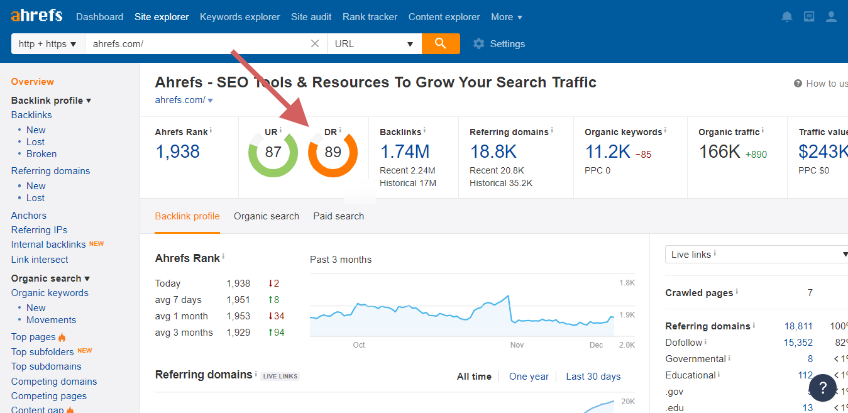 Since Domain Authority is only intended to give you an idea of your site's ranking ability, you can use it to compare your site's popularity with your competitors and aim to have a higher score. However, high DA score should not be your only goal.
A DR score shows the strength of a site's backlink profile, while DA allows you to see which site ranks higher in the SERP (Search Engine Results Page).
Position matters
Where links are available on the page matters to Google's algorithms, more valuable are those that are used in the central part of the page.

Links added in the footer are not as attractive to Google robots.
It is also worth mentioning the so-called editorial links, i.e., links placed by someone on their website on purpose, recognizing that they like your website very much.
Links added in the profile on the original site are not editorial links. Furthermore, to quote Google, "…linking that has not been editorially incorporated or endorsed by the site owner to others called unnatural links may be considered a violation of our update."
Links should be added to various subpages of our website, e.g., services, contact, blog, etc., not only to the home page. To strengthen the reputation of the site and its position in the search engine.\
Summary
Creating links is an essential element affecting the reputation and identity of our website on the web. Its purpose is that the page will rank higher in search results over time. All marketers and business owners should use link building to drive traffic and increase the website's authority, which can have a giant impact on selling products or services.
Sources:
semrush.com
ahrefs.com
moz.com
Autor Case Study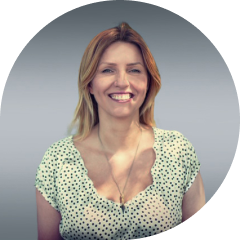 Paulina Czaja
Crypto copywriter z szerokim doświadczeniem jako project manager, content manager oraz SEO copywriter dla różnorodnych projektów blockchain. W WMI jest odpowiedzialna za tworzenie contentu na social media, pisanie artykułów na blogi, oraz przygotowanie tekstów na potrzeby codziennej komunikacji.

powrót do wszystkich artykułów

;