Announcement of upcoming marketing events in 2023
Industry events are an excellent opportunity to develop your business network and gain new knowledge. At We Make It, we always build on solid networking. We believe that sharing learned lessons with each other and exchanging experiences of working on projects contributes to business development and has a positive impact on the sector as a whole. There can never be too many good practices. 
Whether you are taking your first steps as a marketer or are an expert with many years of experience, if you want to grow in this field, then browse the upcoming events. We have compiled a list of the most interesting events in 2023 for you. You are guaranteed to find something interesting for yourself.
A festival of substantive knowledge bringing together experts from the marketing industry. The program includes conferences, lectures, workshops, and also before and after party. Practical tasks, during which you solve case studies, await you on the spot. This is a great opportunity to train your decision-making competencies under the guidance of top specialists.
Rema Days - Warsaw, 01-03.02
This is one of the largest advertising and printing trade fairs in Europe. At the 18th edition of the event, more than 800 exhibitors are waiting for you in an area of more than 50 thousand square meters. This is a great opportunity to network with other companies, exchange experiences, or find a job in the field of graphic design.
SMX - Munich, 15-16.03
The event is dedicated to SEO and SEM activities. An independent team of experts will show business tactics that will improve the efficiency of the team.
This is a gala gathering influencers you can see on your smartphone screen every day, and at the same time, a unique opportunity to get an ambassador for the project you work for. 
An event dedicated to the e-commerce industry, where you will have the opportunity to listen to speeches by more than a hundred speakers who will provide the latest knowledge about e-commerce.
A one-day event where you'll hear ten talks on SEO straight from industry experts. It takes place on the stage of one of Warsaw's theaters. 
One of the most important events on digital marketing, where for two days you will have the opportunity to listen to speeches from more than 40 speakers who will share the highest level of knowledge on how to run projects in each of the key areas that marketing activities consist of.
List of other events: 
Events yet to be announced:
We've given you our list of the most exciting marketing events for next year. We Make It will appear at many of them. Follow our social media, where we'll keep you updated on where we're going 👉 twitter.com/Marketing_WMI
Regardless of where we'll be, we hope to see you there!
Autor Case Study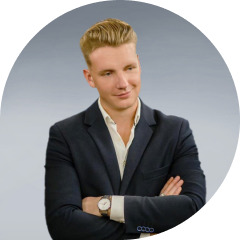 Przemysław Olędzki
Doświadczony Technical Writer w obszarze blockchain mający w portfolio współpracę z licznymi projektami. Publicysta w dziedzinie ekonomii, psychologii i kryptowalut. W WMI zajmuje się realizacją wszelkich form wypowiedzi pisemnej - od dokumentacji technicznych, po artykuły blogowe.

powrót do wszystkich artykułów

;